Opis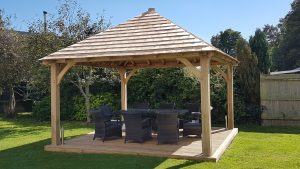 Timber pergolas are outstanding structures that offer a lot of character to your garden.
If you are looking for a timber pergola made from the finest oak you've come to the right place.
At Cottage Craft Furniture we design and supply timber garden pergolas to compliment your garden.  We take pride in our designs- each and every are best quality, unique, handmade and functional.
We offer products that are built to stay that way for ages. Our pergolas are constructed from 100% oak which is the best species of wood for decay and weather resistant. Oak is the highest quality wood for outdoor use –period, it is stable, does not shrink and expand nearly as much as other wood. This wood is from FSC forests and has been reated with best Tikurrilla products twice. It is built for timeless outdoor use in the garden. You can relax and be sure that safety standards and highest quality are at the centre of its design.
The natural qualities of oak will blend into any garden design whether it is traditional or modern.
Our pergola will look great in your garden or on your terrace.
Please let us know of any other items you require as we can add it to the load.
We provide handmade items in a wide range of materials. Our pergolas are constructed by skilled craftsmen.